Patents/NTR
Find more details of my latest award winning engineering & manufacturing software solutions. These inventions are reported as NASA Technology Reports.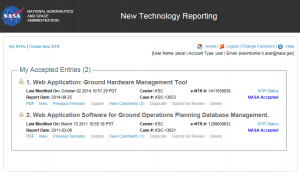 NASA e-NTR #: 1299600833
Title:Web Application Software for Ground Operations Planning Database (GOPDb) Management
Filed on March 10, 2011
A Web application facilitates collaborative development of the ground operations planning document. This will reduce costs and development time for new programs by combining operation timeline and operation details, resources in one data structure, incorporating the data governance, access control, and revision tracking of the ground operations planning data.
NASA e-NTR #: 1411658938
Title:  
Web System: Ground Hardware Management Tool
Filed October 7, 2014
The GHMT web application/system has been designed and developed in-house on the KLXS contract. The solution was built using state-of-the-art Web 2.0 technologies and deployed as SaaS (Software as a Service), with an emphasis on data governance and security needs. Application access is managed using two-factor authentication, with data write permissions tied to user roles and responsibilities. Multiple instances of the application can be deployed on a web-server to meet the robust needs for multiple, future programs with minimal additional cost.